By Sandy
I suffer with Scoliosis & Fibromyalgia therefore comfort & support while seated at my computer are paramount. A friend 'surprised' me with an ergonomic computer chair he purchased at Canadian Tire & assembled it for me as he knew I would be unable to.
Unfortunately, the chair did not provide the adequate support I needed so we promptly tried to return it to the Canadian Tire store where it was bought with our explanation for its return. Because my friend had inadvertently discarded the box which the unassembled chair was purchased in, Canadian Tire refused to offer a refund in return for the chair - even though the receipt was dated for the day before!
I could understand if they could only offer a store credit, but no. I'm stuck with a $100.00 chair I can't use & one of us is out the money: If you've never known anyone who is trying to eck out an existance on Disability benefits, I can tell you that it's well BELOW the poverty line!
A few months back I also tried to return a wind-up flashlight which only worked for a few minutes when I first brought it home - never to work again, but, because it wasn't in its original packaging Canadian Tire would not honor the product they sold to me.
I have been a faithful customer of Canadian Tire most of my life - even worked as a cashier in the original location on Sheppard Ave. at Leslie St. in Willowdale while I attended school back in the 70's, but if this is how Canadian Tire treats its loyal customers I can assure you that there will not be a THIRD time that I purchase a product which is not suitable or dysfunctional from you as I will cease to shop at Canadian Tire from this day forward!
I will get my car serviced at WALMART because I am treated with courtesy & quality work plus it's cheaper. Anything that Canadian Tire sells, I can also get at WALMART for less!
Below is a picture of the chair I am stuck with as even posting an ad for it at HALF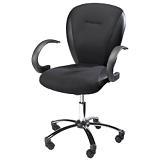 the price on craigslist & kijiji is generating no response.